In the town of: Stellenbosch:



Places of Worship and Religious Assembly - All denominations - Stellenbosch (Cape Winelands Attractions)




By History Teacher - Flinkdink High School on Monday, June 07, 2004 - 07:06 am: Edit Post
This is started as a class project for 2004 Grade9w class of Flinkdink High School. The task is find each place of worship or religious assembly in the Stellenbosch district and to enter the following data below:
Name of religion
Name of the building, or of the congregation
Street address
Times of worship or assembly
Contact telephone number

Photos of the buildings and a discussion of the history of the congregation or building will be a bonus. No discussion of the merits or validity of the particular religion will be allowed.

Task to be completed by 30 April 2004.

(This introductory message will be removed at the completion of the task)

By Jannie Leerling on Monday, June 07, 2004 - 07:07 am: Edit Post
NG Moederkerk:

Drostdy Street. Tel. 883 3458

When the old church of 1722 became too small for the congregation it was decided to enlarge it in the neogothic style after plans by the German architect Carl Otto Hager. A great bazaar was held on the Braak to raise funds for the project.

Despite generous contributions from members of the congregation and donations of items, such as the pulpit, the railings and the three bells in the belfry, further fundraisings were needed to meet the substantial cost of the alterations (£ 9 057 11s 5d)...Apart from oxen, cows, calfs, horses, sucking pigs, 300 sheep, 200 chickens, pheasants, partridges and turkeys, 25 half-aums of "matured wine" were also put up for sale, all for the benefit of the building fund. To attract the curious, a cow with two tails and a leopard were on show, and in addition to the refreshments in the marquee, grog and brandy and soda-water could be consumed in a separate little building.
No wonder the bazaar was a resounding success.
(Ters van Huyssteen, Footloose in Stellenbosch)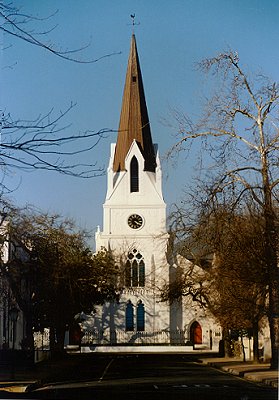 Photo by Wilhelm Malherbe




The Synagogue:

Stellenbosch Hebrew Congregation
Ryneveld Street, Tel 881-3642, Fax 886-5257
PO Box 128, Stellenbosch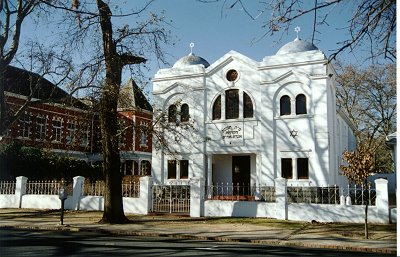 Photo by Wilhelm Malherbe




The Mosque:

Banhoek Road
THE EARLY MUSLIMS OF STELLENBOSCH

Many slaves were brought to the Cape by the Dutch East India Company in the 17th and 18th centuries. Not only were these captives intended as labour for the Company itself but many were sold to the burghers in and around Cape Town and later to owners in Stellenbosch and other country areas as the colony expanded. By 1692 seven owners possessed a total of 43 slaves in Stellenbosch. By 1705 the slaves had increased to 205 and towards the end of the century the number of slaves in Stellenbosch exceeded 1 400. Slaves were also set free from time to time and several owned land in Stellenbosch. Louis of Bengal, who was allowed to purchase his freedom in 1672, was one of the first people to own a farm in the Jonkershoek Valley. In 1683 and 1685 Marquart and Jan van Ceylon also obtained farms in the area.

Although only a minority of these people originally came from the Malayan Archipelago they and their descendants all became known locally as Malays or Cape Malays. Since many had no connection with Malaya it would be more correct to use the term Muslims. (The Afrikaans word Slamse or Slamaaier being a corruption of "islam" is also appropriate).

Despite the early influx of muslims, Stellenbosch never had a large muslim community. Sheik Jussuf, who is generally considered to be the founder of Islam at the Cape, came to the Stellenbosch district in 1694. Banished from Batavia after his capture by the Dutch East India Company he lived with his retinue of wives, children and religious followers near the mouth of the Eerste River where his grave or kramat is still visited by thousands of muslim pilgrims every year.

Another colourful personality, also banished to the Cape by the Dutch East India Company, was the Pangerang Loring Pasür, a prince of Java, who was given a house to live in in Dorp Street, Stellenbosch in 1723.

In 1725 his brother, Prince Dipa Nagara, was also brought to Stellenbosch where he lived for 18 years. In 1749 rince Wargo Digma of Bantam and two rajahs were brought to Stellenbosch where the building of the old mill near the top of Dorp Street was put at their disposal.

The muslim community mainly excelled as craftsmen and merchants and in 1897 the first mosque was constructed in Banhoek Road.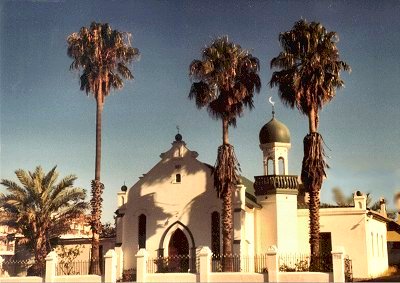 Photo by Rosemarie Breuer